Top-tier recognition for five consecutive years! ZJUI students continue to make remarkable accomplishments in the 2022 International Mathematical Contest in Modeling
Date:16/05/2022
Article:Joyce
Photo:N/A
Recently, the results of the 2022 International Mathematical Contest in Modeling (MCM/ICM) were announced. Thirteen teams consisted of thirty-nine ZJUI students achieved exhilarating outcomes in the fierce competition against more than 27,000 excellent contenders. According to incomplete statistics, six ZJUI students were designated "Finalist (top 2% teams qualify)", nine students were designated "Meritorious Winners (top 7% teams qualify)", fifteen students received "Honorable Mentions" and other nine students were designated "Successful Participants".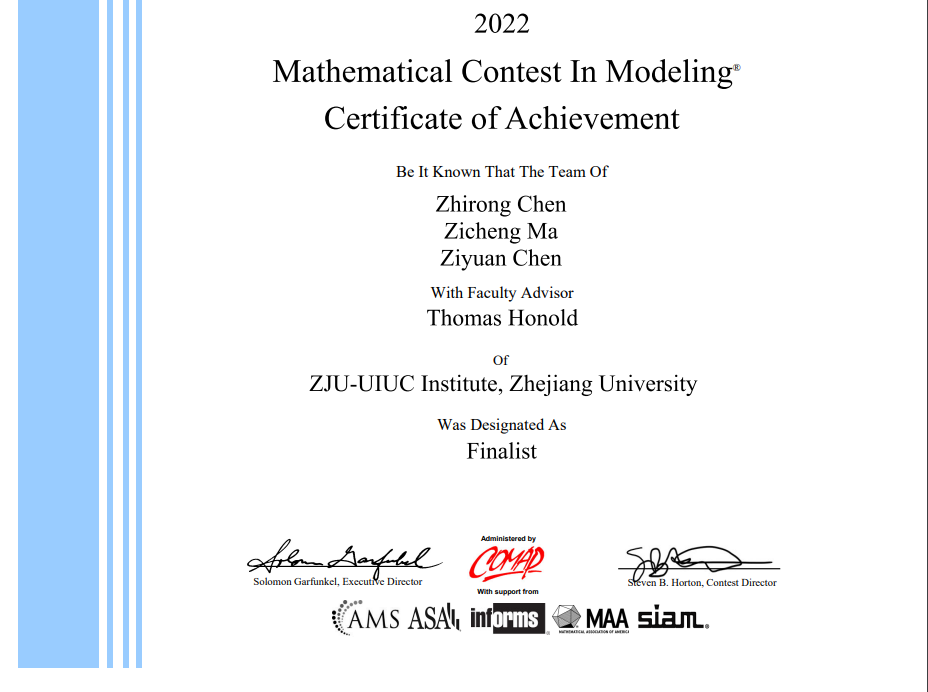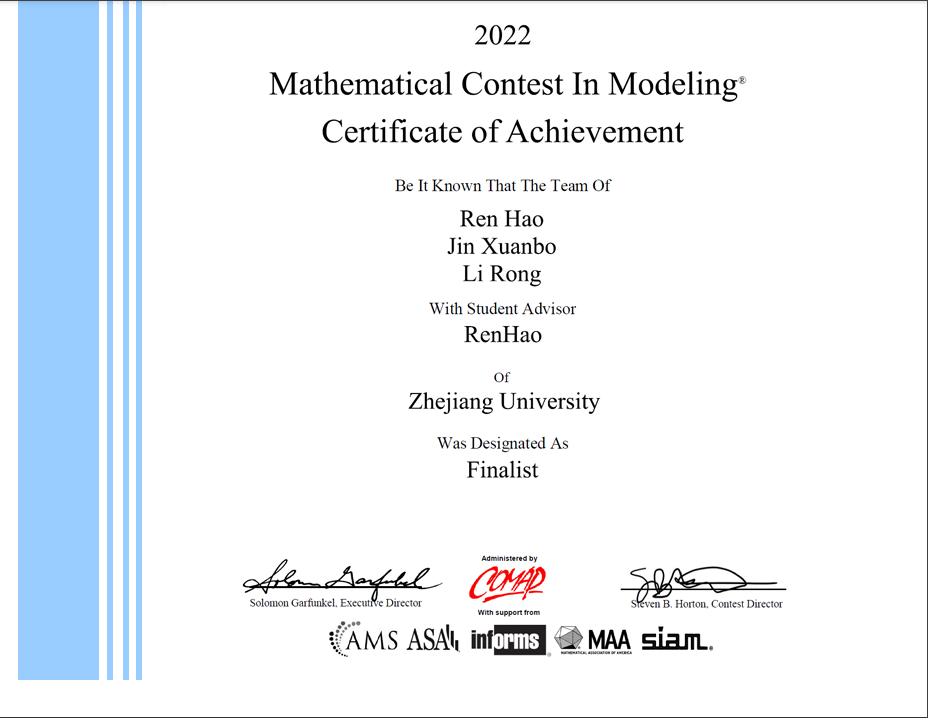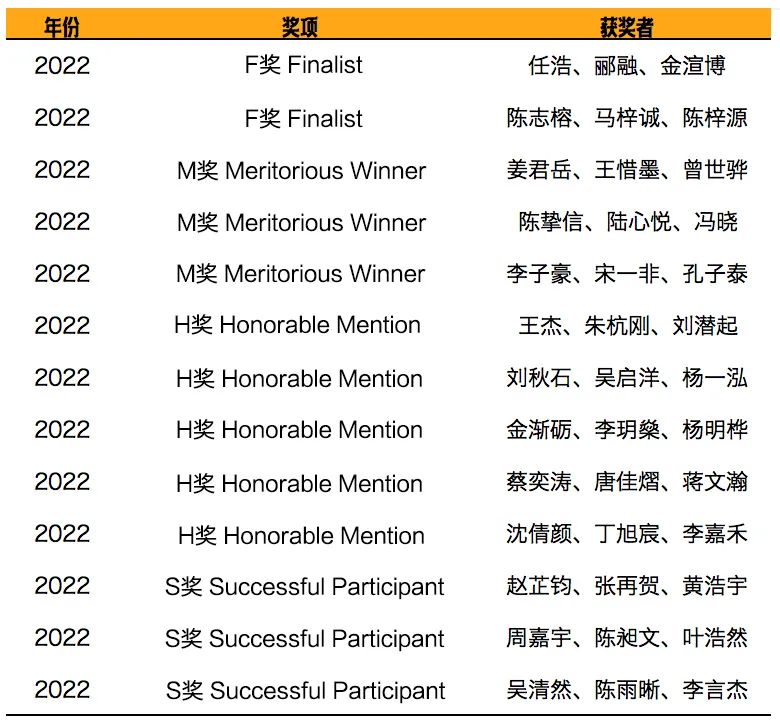 ▲ 2022 Winners List
The MCM/ICM is the most influential modeling contest in the world, whose topics cover a wide range of subjects including economy, management science, environmental science, ecology, medicine, and public safety. The contest is hosted annually by the Consortium for Mathematics and Its Application (COMAP).
The 2022 MCM/ICM was held from 17 February to 21 February EST. 27,205 teams from 22 countries including China and the US participated in the contest. Each team should have no more than three students, and they are required to finish all the work from modeling, problem solving, results examining, and paper writing for the specified topic within four days to showcase their researching and problem-solving capability, as well as teamwork spirit.
01 Practice makes perfect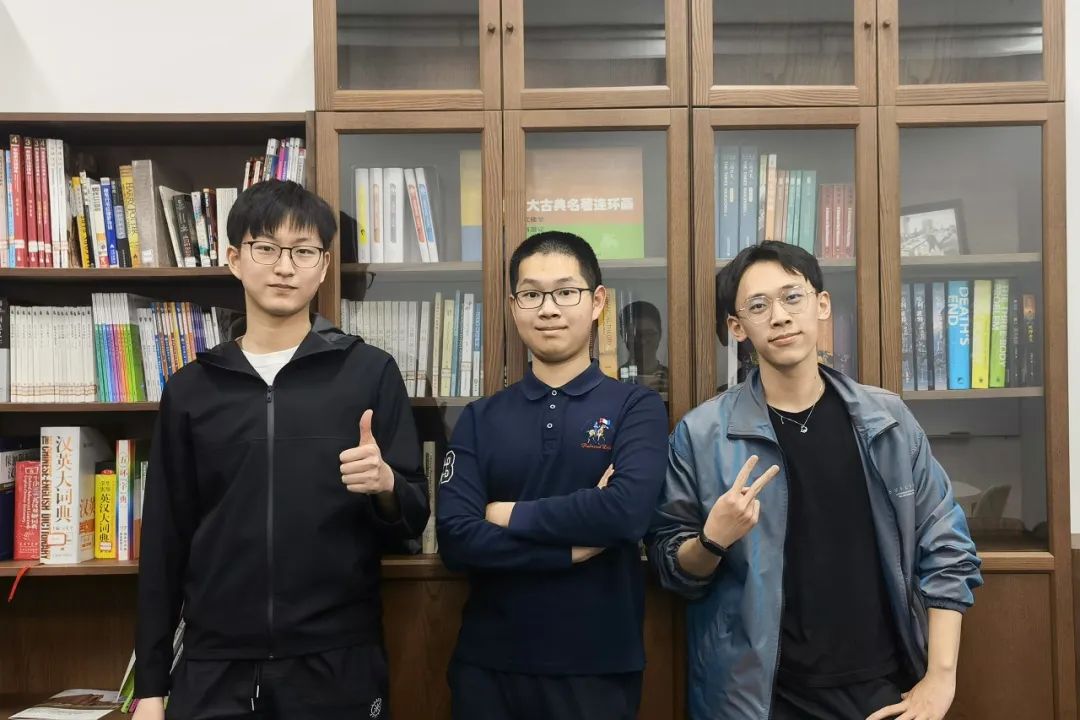 ▲ From left: CHEN Zhirong, CHEN Ziyuan, MA Zicheng
In this year's contest, CHEN Ziyuan, CHEN Zhirong, MA Zicheng from '24 Computer Engineering, and REN Hao, LI Rong, JIN Xuanbo from '24 Electrical Engineering were designated Finalist.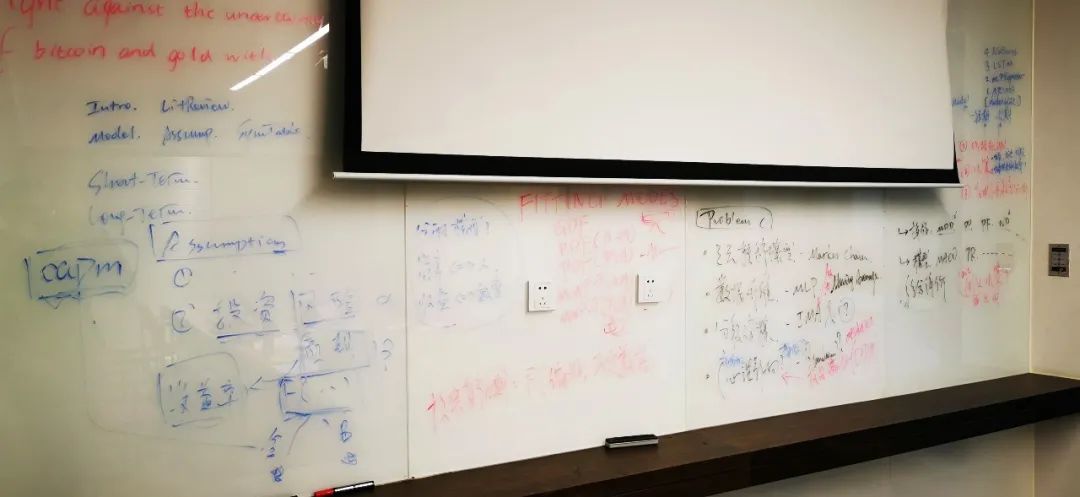 CHEN Ziyuan and his team chose the C question of big data modeling and ranked among the top 2% in all more than 10,000 teams who also selected this question. C question required the contestants to develop a best trading strategy based on the prices of gold and bitcoin in the past five years. Data provided this year for C question were greatly reduced, making it even more difficult to solve. How to predict the prices based on the data in different periods? How to classify models? All these complex questions pushed the team to help each other and conquered the problem with high efficiency and in high quality.
As the saying goes, "April showers bring May flowers." During the winter break before the contest, CHEN and his team studied Python Mathematical Experiment and Modeling to understand a myriad of different common models, held an online meeting every 4 days to understand each other's hardship. By the end of the break, the team can use Python codes to apply common models used in MCM/ICM. Meanwhile, they also studied how to use LaTex and learned some writing techniques. Just before the contest, the team had a meeting to specify each teammate's work.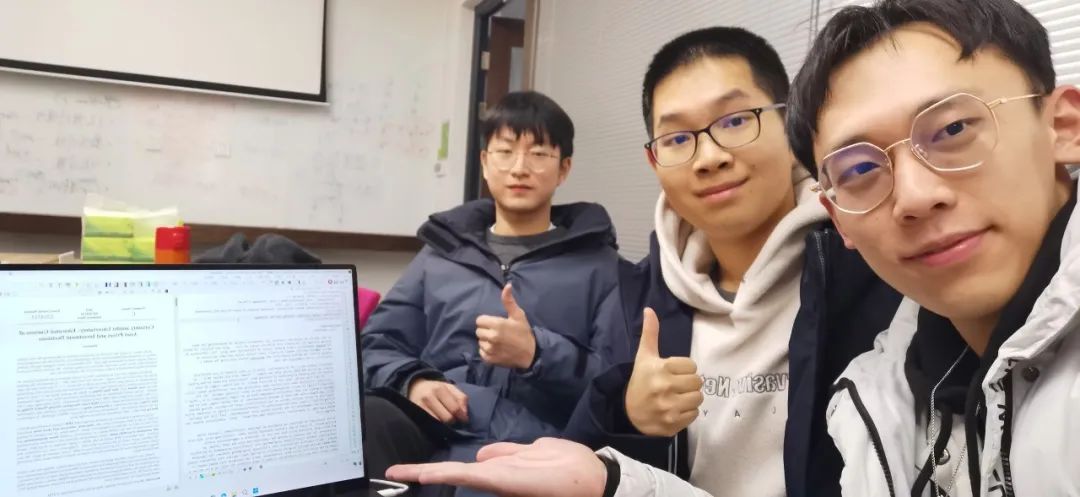 The hard-working spirit is also what encouraged REN and his teammates to stay focus during their preparation for the competition. Before the competition, they had intensive studying and machine learning practices for 2 months. Writing a large number of programs and digging deep into the connotation of knowledge have become their daily life. A 25-page paper, more than 20 diagrams, and 3,000 lines of codes are the proofs that the team really sunk their teeth into the contest. They credited their honor to innovative model improvements, steady and ordered teamwork, high morale, and hard-working spirit.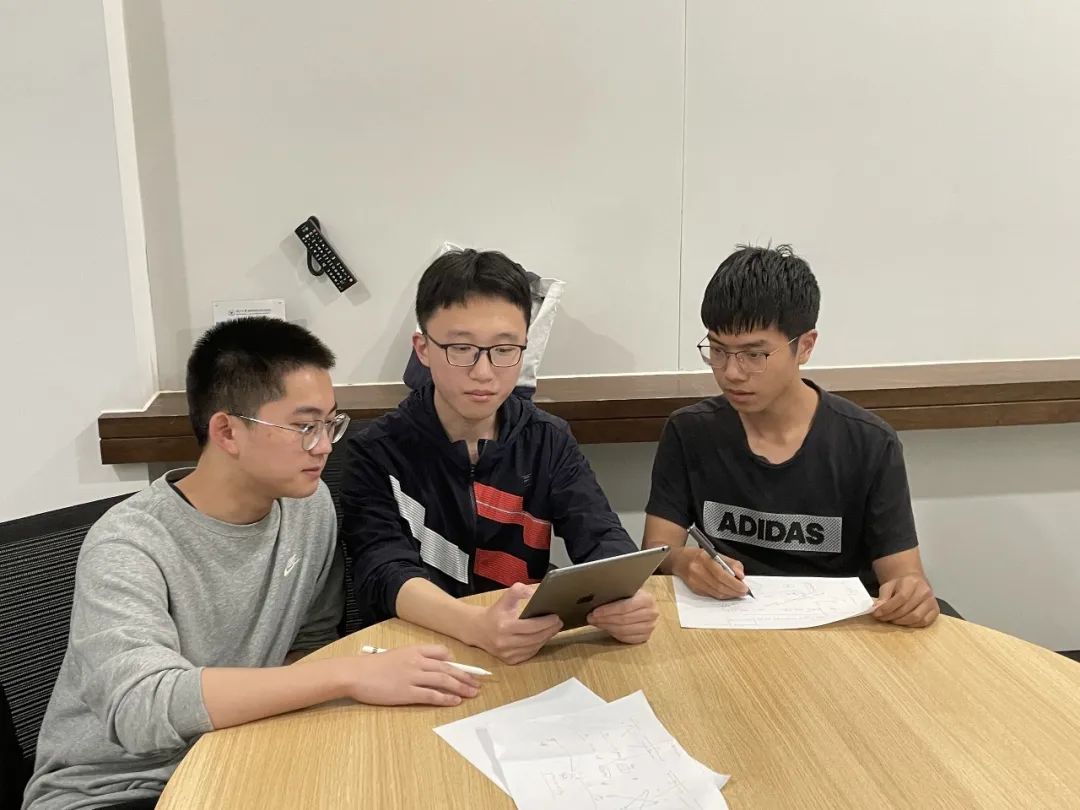 ▲ From left: JIN Xuanbo, REN Hao, LI Rong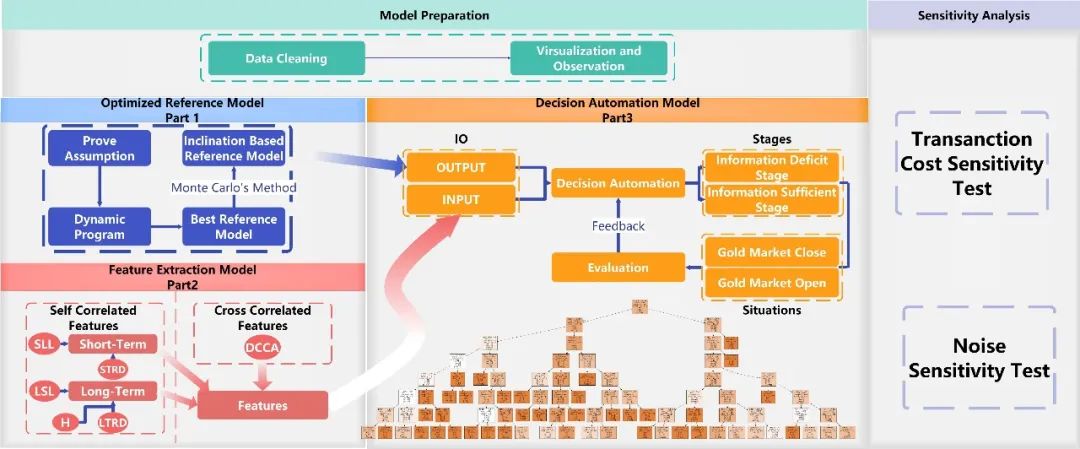 02 Glad tidings keep pouring in
2022 is the fifth consecutive year in which ZJUI undergraduates have achieved exciting results. It is also the year that most Finalist designations were won so far. Before this year, the highest designation ZJUI undergraduate has won was an Outstanding Winner along with an INFORMS Award.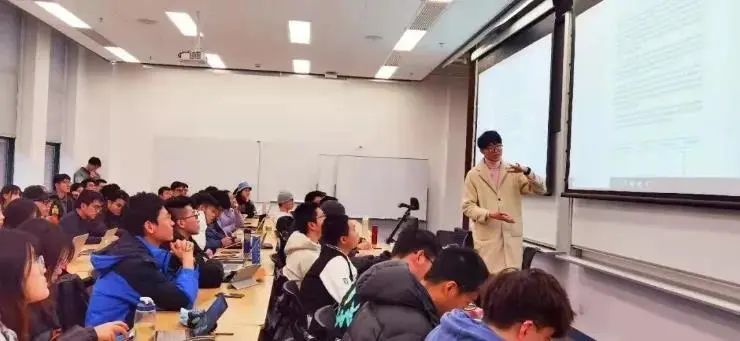 ▲ Experience sharing session for MCM & ICM
ZJUI, which has always attached great importance to interdisciplinary cultivation, and is committed to giving full play to the advantages of Sino-foreign cooperative education, effortlessly encourages its students to participate in top-tier international contests such as the MCM/ICM and let them showcase their talents and abilities on global platforms.
The ZJUI faculty members also played an important role. A number of professors spared no effort in communicating with their students and patiently guided them to integrate interdisciplinary skills. CHEN Ziyuan, CHEN Zhirong and MA Zicheng mentioned, "Our instructor Professor Thomas Honold prepared a myriad of modeling resources for us before the contest. The two book he recommended to us were more practical than our own selections. He also guided us to better prepare through a modeling contest website, which provided us with a handful of important resources."
In the past five years, ZJUI's excellent education resources featuring strong international atmosphere and encouragement of innovative practice as well as scientific research training, along with students' own efforts and faculty's careful guidance, have pushed the ZJUI students to continue making great achievements in international contests.