Graduates | First International Student Nóra Kovács' Global Education Experience at ZJUI
Date:13/09/2021
Article:YAN Xiaoyu; Translator | JIANG Junyue
Photo:N/A
Profile
Nóra Kovács, a Hungarian national, is the first international student to have joined ZJUI to major in Civil Engineering in the graduating class of 2021. She can speak 4 languages that are inclusive of Hungarian, English, German and Chinese. She came to China alone from Hungary to study, and has left a long footprint on the land of China. At the time of her graduation, she received numerous offers from many top-tier universities in the world, such as UC Berkeley, UIUC and TU Delft.
Choosing the best to learn
Before coming to China, Nóra had never studied abroad and had never been to Asia. It was by chance that she was introduced by her relative to a joint engineering college between China and the U.S. - Zhejiang University, University of Illinois at Urbana-Champaign (ZJUI for short). After learning about ZJUI's cultivation philosophy, strong faculty, and advantageous resources, she decided to choose ZJUI, and the long road taken to her commencing her study abroad was filled with mystery.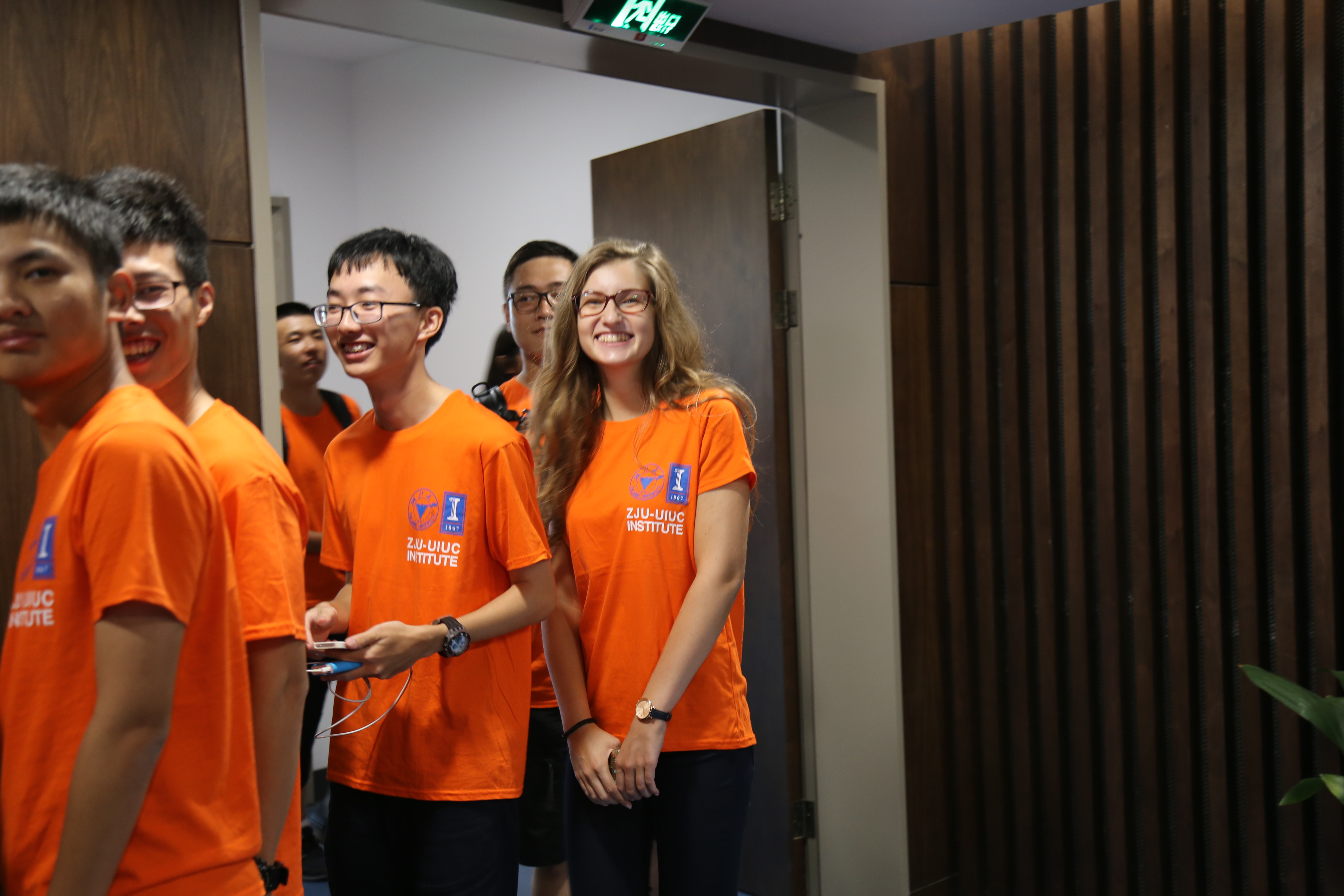 ▲ Welcome ceremony for the freshman in 2017
"I am very grateful for the students and teachers I met at ZJUI, who gave me a lot of help, and the college provided excellent teaching resources and supporting facilities." Facing an unfamiliar environment and culture when she first arrived, Nóra said she quickly adapted to the life here with the great help of the faculty and students. She said, "I still remember my first dinner gathering with my classmates, which was my first time having hot pot, and the crowd of people talking around the steaming hot pot while enjoying the delicious food made me relax and start to enjoy my life in China."
She also interacted well with her Chinese classmates during her time studying at the University. Nóra was impressed by the diligence of her Chinese classmates and was determined to make herself better by working hard together with them, alongside there were many teamwork projects in the ZJUI program that helped her integrate quickly. In her freshman year she part took in a course entitled "Introduction To Civil Engineering". There she was led by her instructors to go out on field trips with her classmates. They went to Shanghai, Hangzhou, Jiaxing, and other places to see Chinese hydroelectric power plants, water plants, subway sites, the Fuxing Bridge, and the Shanghai Center Building up close. During the hands-on experience, she gained a preliminary understanding of the knowledge and practice in the field of civil engineering, which also deepened her understanding of the China's prowess in knowledge of construction.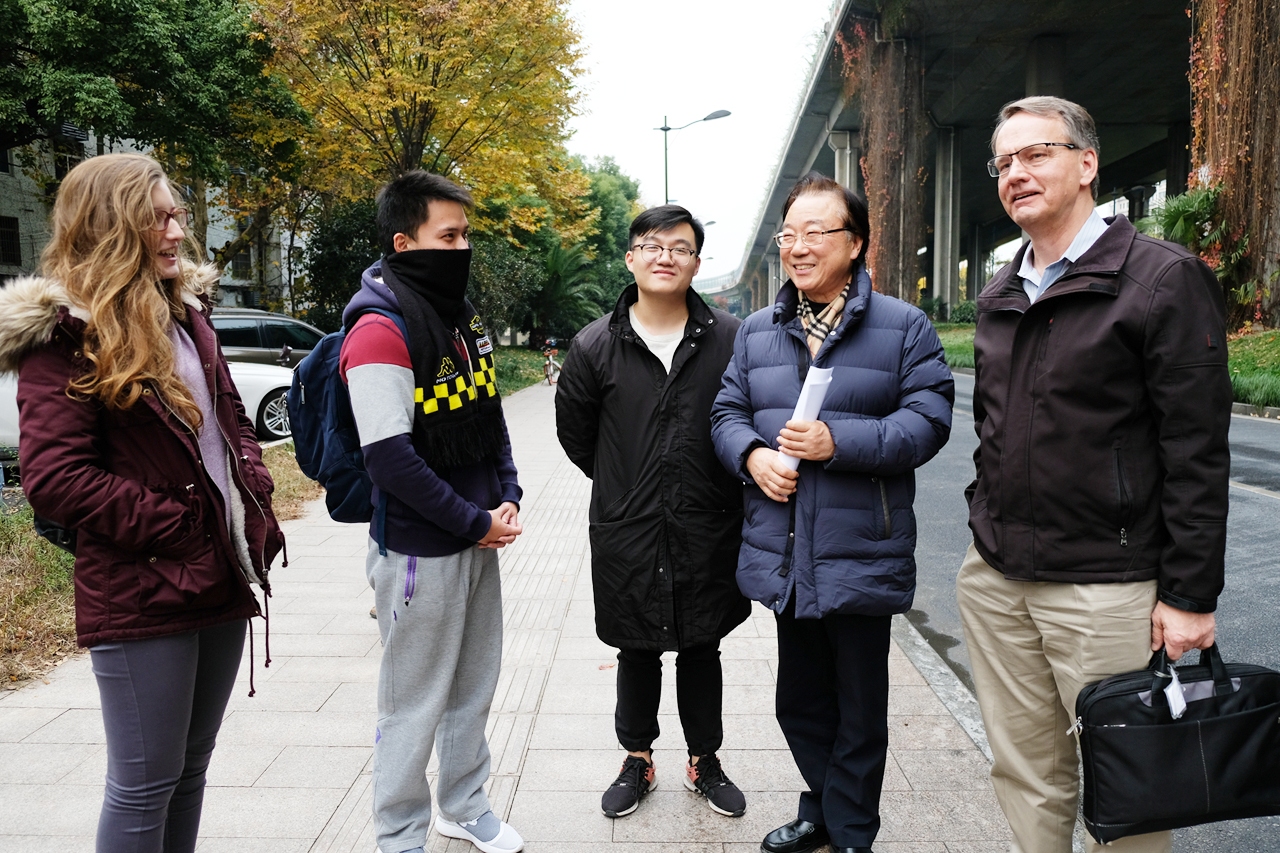 ▲ Field trip to the Fuxing Bridge
"The professors here not only have very high professionalism, but also communicate with me in a kind and friendly way, which has helped me a lot. Even during the pandemic, when I was unable to come to China for classes, our communication was not interrupted." Faced with the difficulties of the global pandemic and the vastly different time zones, Nóra was able to maintain close contact with ZJUI faculty and students despite her inability to return to the campus and insisted on participating in group discussions by actively coordinating time with her teammates and through weekly one-on-one office hour communications with her professors, which largely alleviated the inconvenience of being in a foreign country. "I am very grateful to the faculty and students at ZJUI for their warm-hearted greetings and unfailing care for me during the pandemic, both in study and in life. Especially Prof. Zhu Tingju, who always regularly took the initiative to check my mastery of the course and answered my questions and concerns in a timely manner." said Nóra.
Active practice with responsibility in mind
During her exchange at UIUC, Nóra worked as a research assistant for Professor J. Riley Edwards, where she conducted in-depth research on the topic "Use of Laser Triangulation and Deep Neural Networks (DNNs) for Railway Track Safety Inspections". They used Rail metrics sensors to collect scanning results and improved the track defect locations of geometric vehicle inspection systems by training deep neural networks (DNNs). In the process, Nóra learned how to clarify the problem and developed a test plan to investigate the project. During her challenging research practice, she not only strengthened her basic skills, but also solidified her direction for further study during her graduate studies.
Nóra said, "When it comes to science, girls are not necessarily inferior to boys!" She has demonstrated her talent in math and other science subjects since she was in high school, and it was only natural for her to join the Women in Math, Science, and Engineering (WIMSE) at UIUC, which is dedicated to increasing the voice and influence of women in science and engineering, so that they can fully utilize their talents and abilities. With the encouragement of the organization and her own hard work, she has been in the top of her class for four years, achieving a 3.8 GPA and gaining extensive hands-on research experience.
She has also served as the president of UIUC's Engineers in Action (EIA) association, working on the design and construction of pedestrian bridges for third world countries. She actively participated in EIA meetings, organized fundraising events for the project, and explored preliminary design options for bridges. During her time with the organization, she developed a strong interest in International Relations, Cross-Cultural Communication, and volunteer work in addition to bridges. Although her team was unable to physically travel to Eswatini to build the bridge due to the Covid-19 pandemic, Nóra still hopes to further participate in the world's infrastructure building in the future to provide a better living environment for people in all corners of the world.
In addition, she had a number of practical internships in Hungarian civil engineering companies. She has a more open-minded and professional attitude as a result of her rewarding social experience. She says that she hopes to become a socially responsible civil engineer and work towards building a sustainable society.
Passion for life and experience of world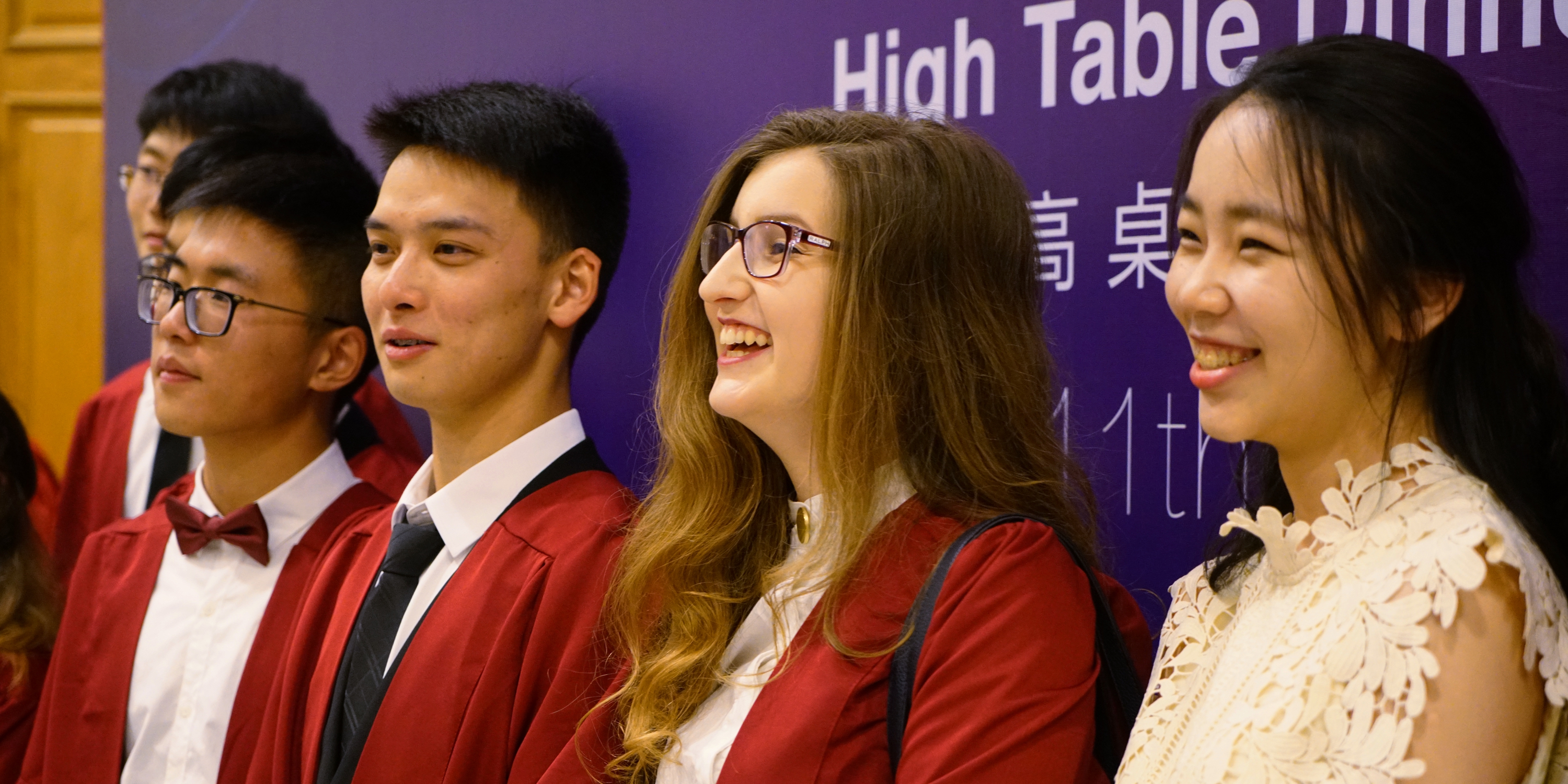 ▲ Attending the High Table Dinner
During her time at ZJUI, Nóra always wanted to integrate better with her Chinese classmates.
She joined clubs, participated in large events such as high-table dinners, and often went on trips with her friends. Nóra likes to fill her day with all kinds of activities. In addition to her studies, she and her friends have traveled all over China, including Beijing, Shanghai, Xi'an, Anhui and Suzhou. She loves food, Hot pot, Yangzhou fried rice and biang biang noodles which all make her taste buds happy. She also loves sports, often riding with friends, doing yoga, going rock climbing, constantly challenging herself. During the holidays, she also warmly received Chinese students visiting Hungary and enthusiastically acted as a tour guide, introducing them to the uniqueness of Hungarian culture.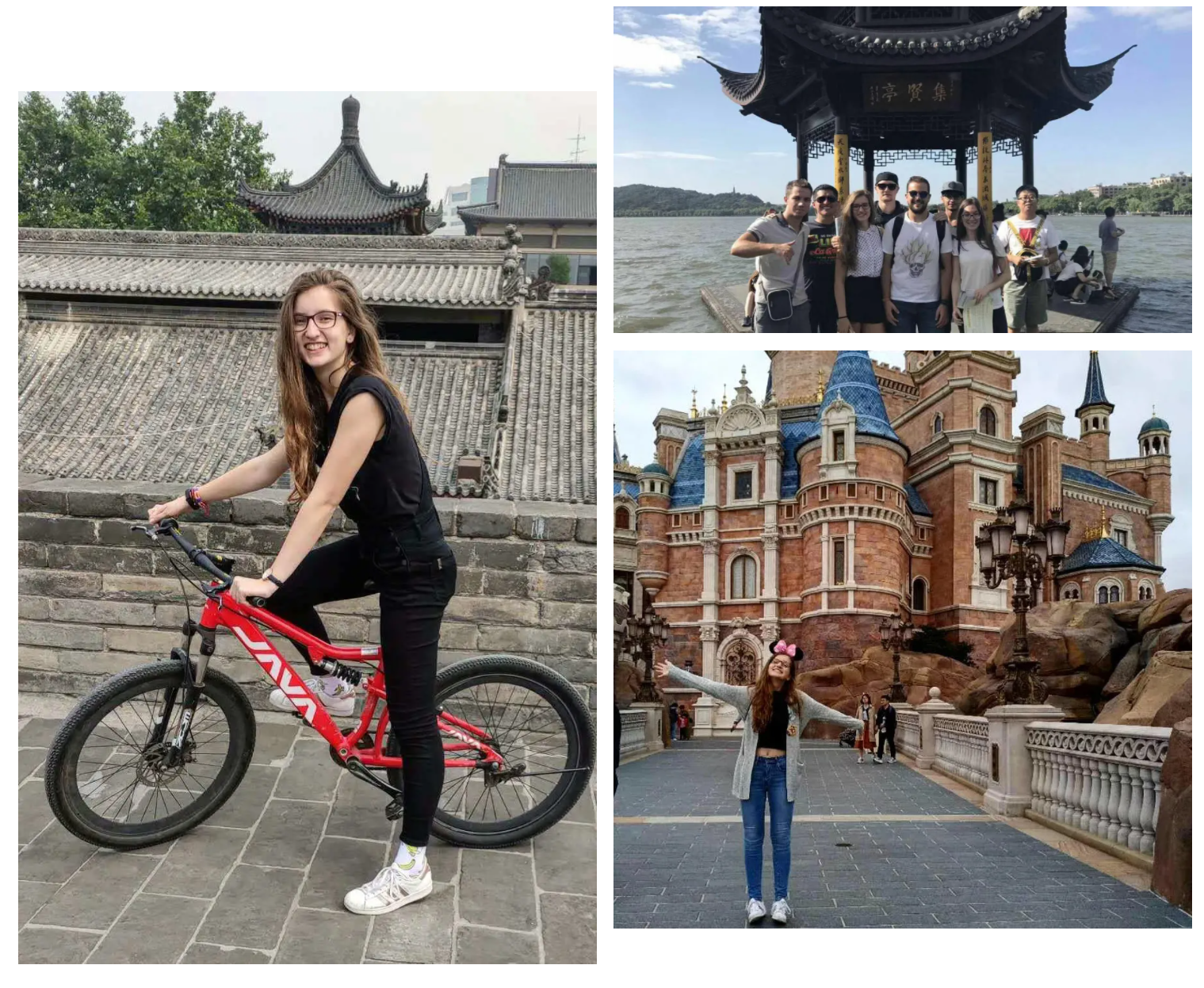 ▲ Traveling in China
She loves life and enjoys it more. Her four years at ZJUI have allowed her to experience the charm of Chinese and American cultures different from that of Europe, truly helping her to improve her cross-cultural communication skills and giving her an excellent experience of global education. The diverse and open campus culture, the friendly and inclusive living environment also provided her with good opportunities to pursue her dreams. She also wants to make better use of her professional ability, international perspective and cross-cultural communication skills to bring about even a small change to the global community.
From far away, to far away. All the gains here may seem careless, but they are actually the painstaking efforts of four years of hard work.