The Fourth Phase of Juanhu International Academician Lecture Hall:Future Non-Terrestrial Networks: Opportunities and Challenges
Date: 03/11/2023
Addr:Multimedia Hall, International Campus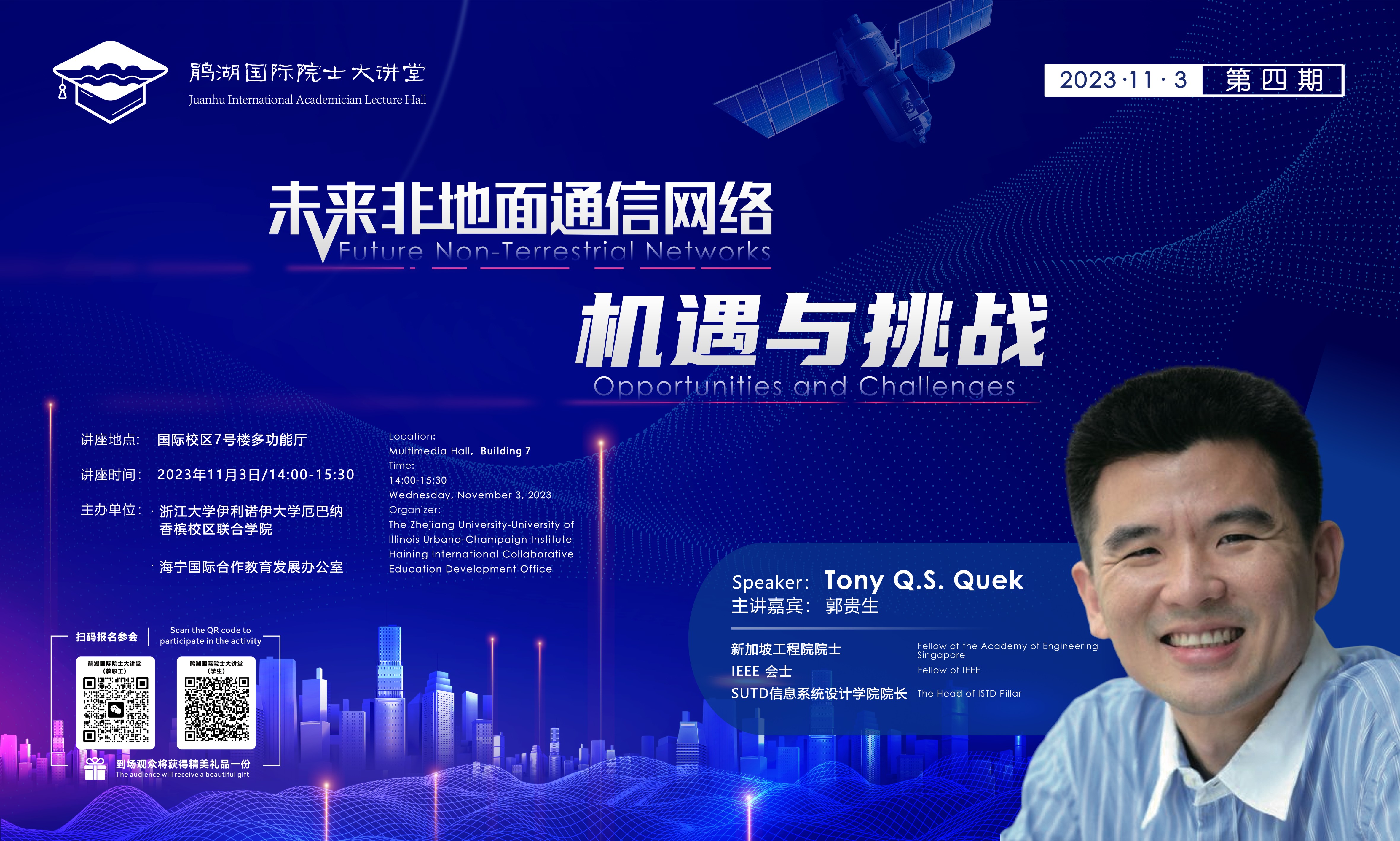 1 Overview
Juanhu International Academician Lecture Hall was established in 2023, by the Zhejiang University – University of IIIinois Urbana-Champaign Institute and the Haining Juanhu Science and Technology City. It was proposed by academician Lee Der-Horng, the dean of ZJU-UIUC INSTITUTE, aiming to invite academicians around the whole world to carry out theoretical presentations, academic seminars, talents training, scientific research, strategic planning and science communication etc. In this way, it is committed to building a high-quality brand activity in the construction of the science and technology innovation hub in the northern Hangzhou Bay and International Collaborative Education Models and contribute to the construction of International Collaborative Education Models.
2 Event
Topic: Future Non-Terrestrial Networks: Opportunities and Challenges.
Tony Q.S. Quek
Fellow of Academy of Engineering Singapore,
IEEE Fellow,
Head of ISTD Pillar
Time:14:00-15:30, November 3
Location: Multimedia Hall, Building 7, International Campus
Language: English
3 Speaker
Tony Q.S. Quek received the Ph.D. in Electrical Engineering and Computer Science at Massachusetts Institute of Technology. He also serves as the Head of ISTD Pillar, Director for Future Communications R&D Programme, Sector Lead for SUTD AI Program. His current research topics include wireless communications and networking, 6G, network intelligence, non-terrestrial networks, and open radio access network.
Dr. Quek received the 2008 Philip Yeo Prize for Outstanding Achievement in Research, the 2016 IEEE Signal Processing Society Young Author Best Paper Award, the 2017 CTTC Early Achievement Award, the 2017 IEEE ComSoc AP Outstanding Paper Award, the 2020 IEEE Communications Society Young Author Best Paper Award, the 2020 IEEE Stephen O. Rice Prize, the 2020 Nokia Visiting Professorship, and the the 2022 IEEE Signal Processing Society Best Paper Award.