ZJUI Adjunct Faculty Billie F. Spencer Jr. was elected as a foreign member of the Chinese Academy of Engineering
Date:19/11/2021
Article:Stephanie Translator | ZHANG, Yan Fei
Photo:LU Qiang
On Nov 18, the Chinese Academy of Engineering (CAE) announced the results of the 2021 member election, which elected 84 CAE members and 20 foreign CAE members. Professor Billie F. Spencer Jr., ZJUI Adjunct Faculty and Nathan M. and Anne M. Newmark Endowed Chair at UIUC, was elected as a foreign member of the Chinese Academy of Engineering.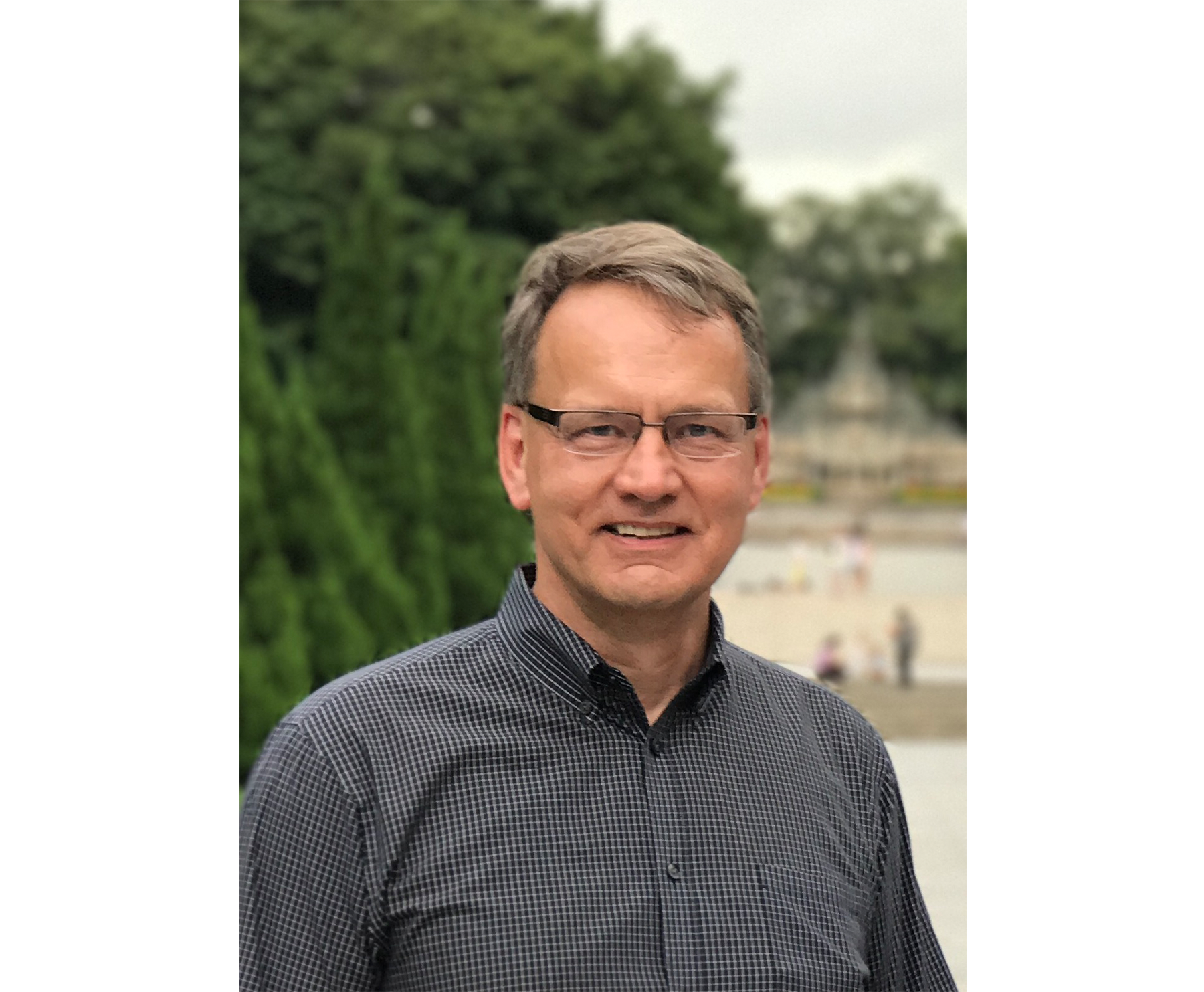 "I am deeply honored to be elected as a foreign member of the Chinese Academy of Engineering." When asked about the feeling of being elected as a foreign member, Professor Spencer said, "I am truly pleased to be counted among the many outstanding members of the CAE and feel very fortunate to have so many good colleagues and friends in China who have supported me over the years." When asked about his plans for the future, he said "I hope that we can meet in person at ZJUI in China sometime soon and celebrate together. Also, I really look forward to returning to Haining and lecturing to the many excellent and enthusiastic ZJUI students."
Since the establishment of ZJUI, Professor Spencer has been deeply involved in ZJUI's teaching and scientific research. He has taught CEE195 About Civil Engineering, CEE 470 Structural Analysis, and CEE472 Structural Dynamics I at ZJUI. He is co-director with Prof. Yan Xiao (ZJUI) of the new Center for Infrastructure Resilience in Cities as Livable Environments (CIRCLE), which was established as a joint ZJU-UIUC Joint Research Center, making great contribution to cross-disciplinary education and research in the civil and environmental engineering field of the Institute.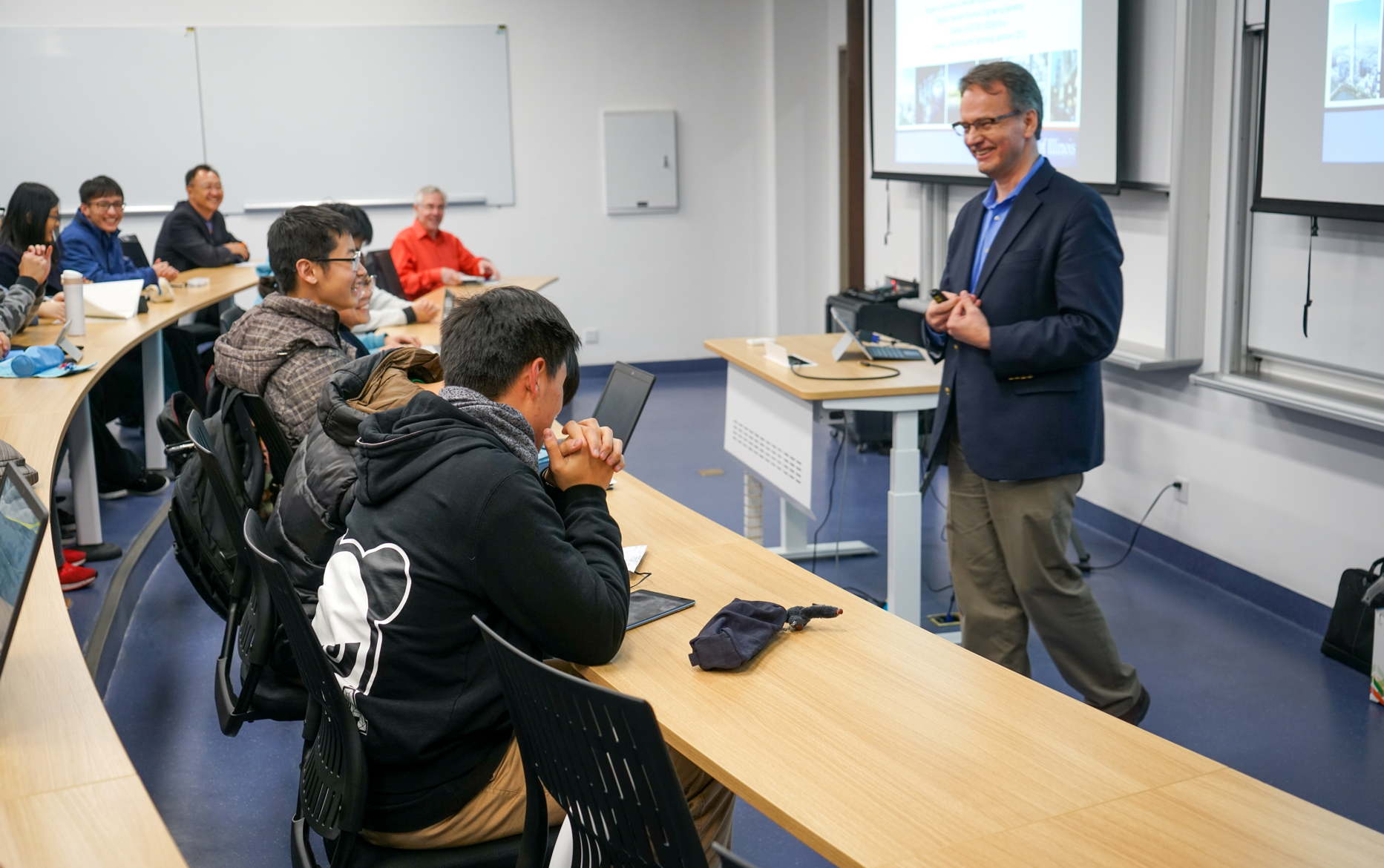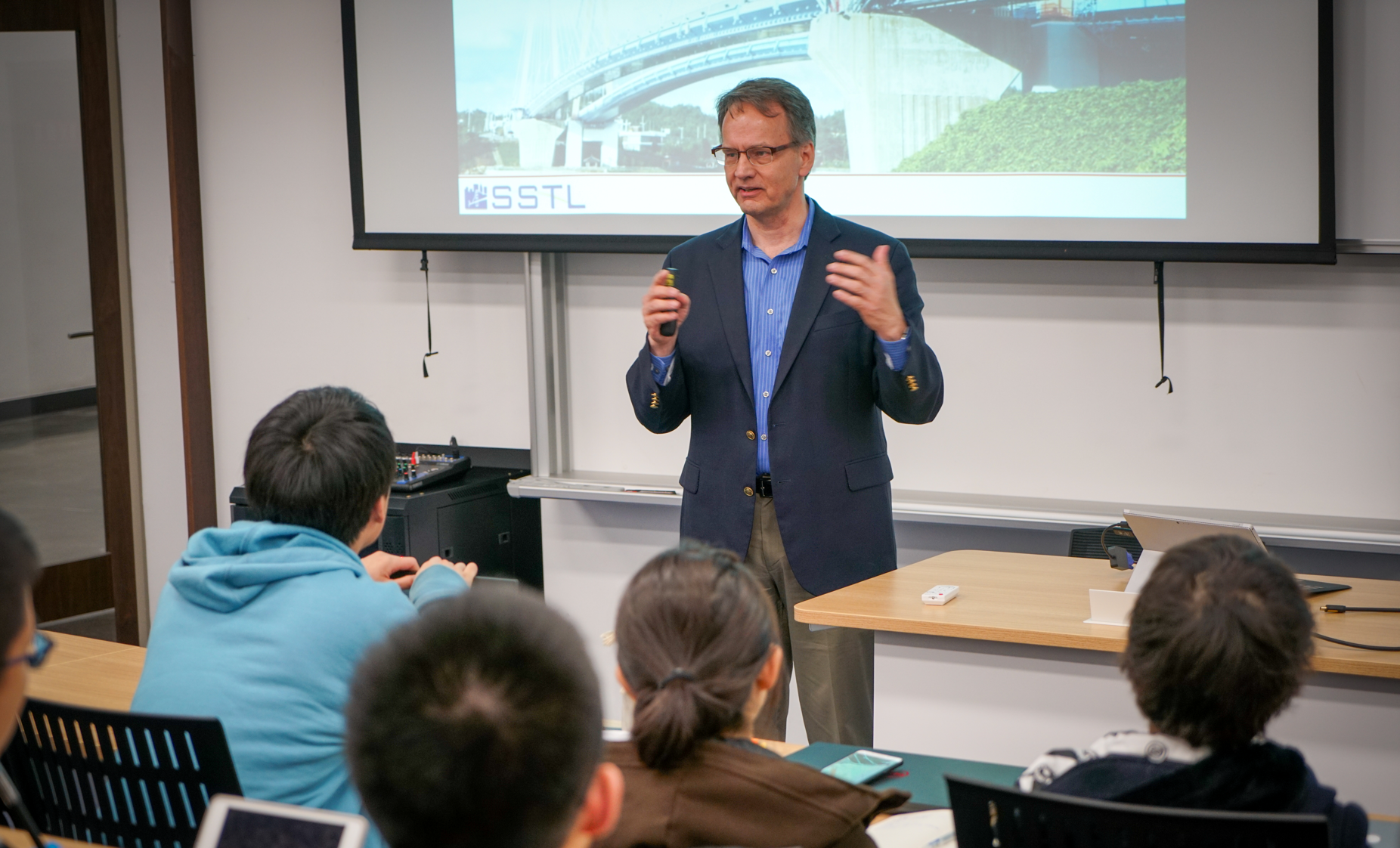 ▲ Teach at ZJUI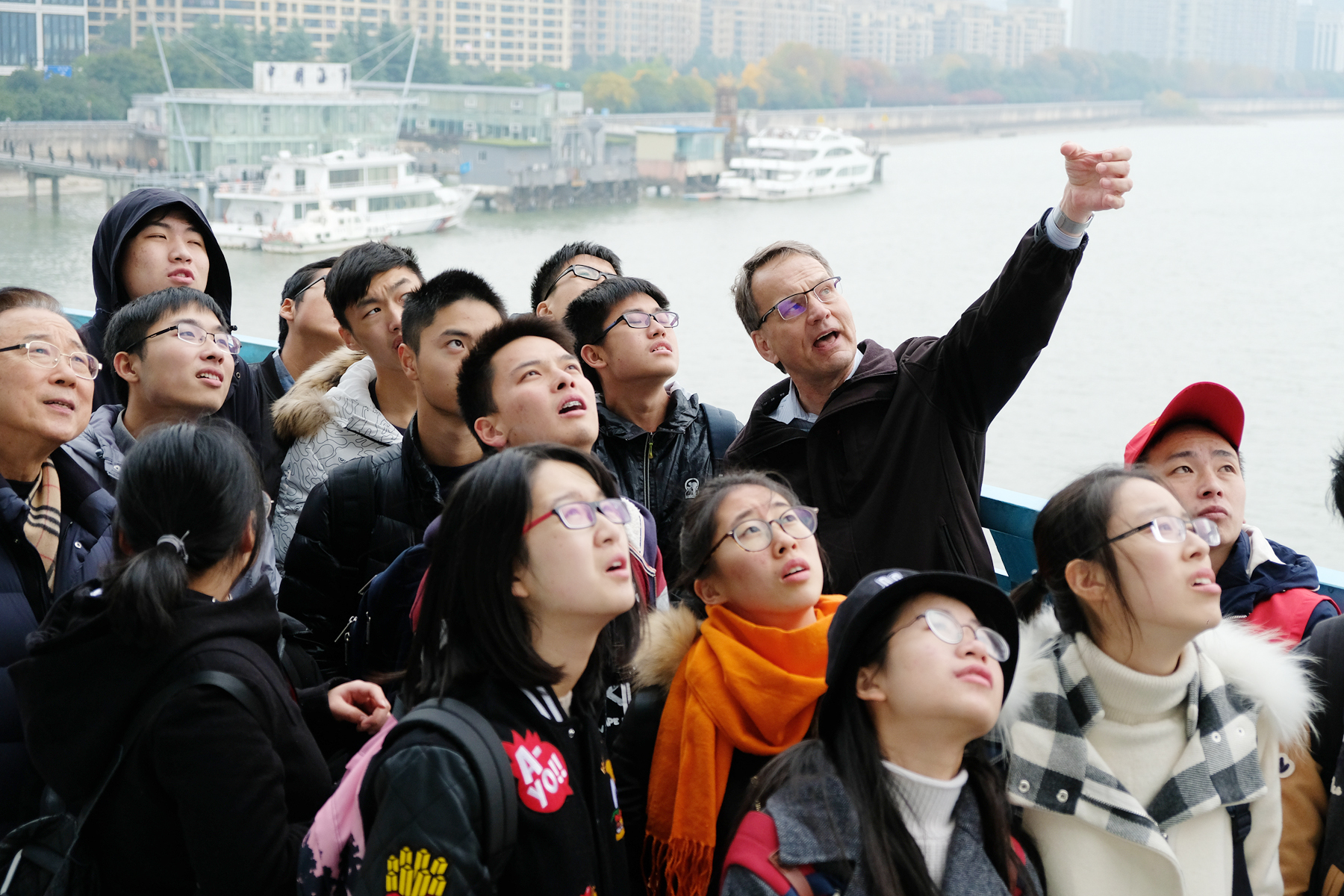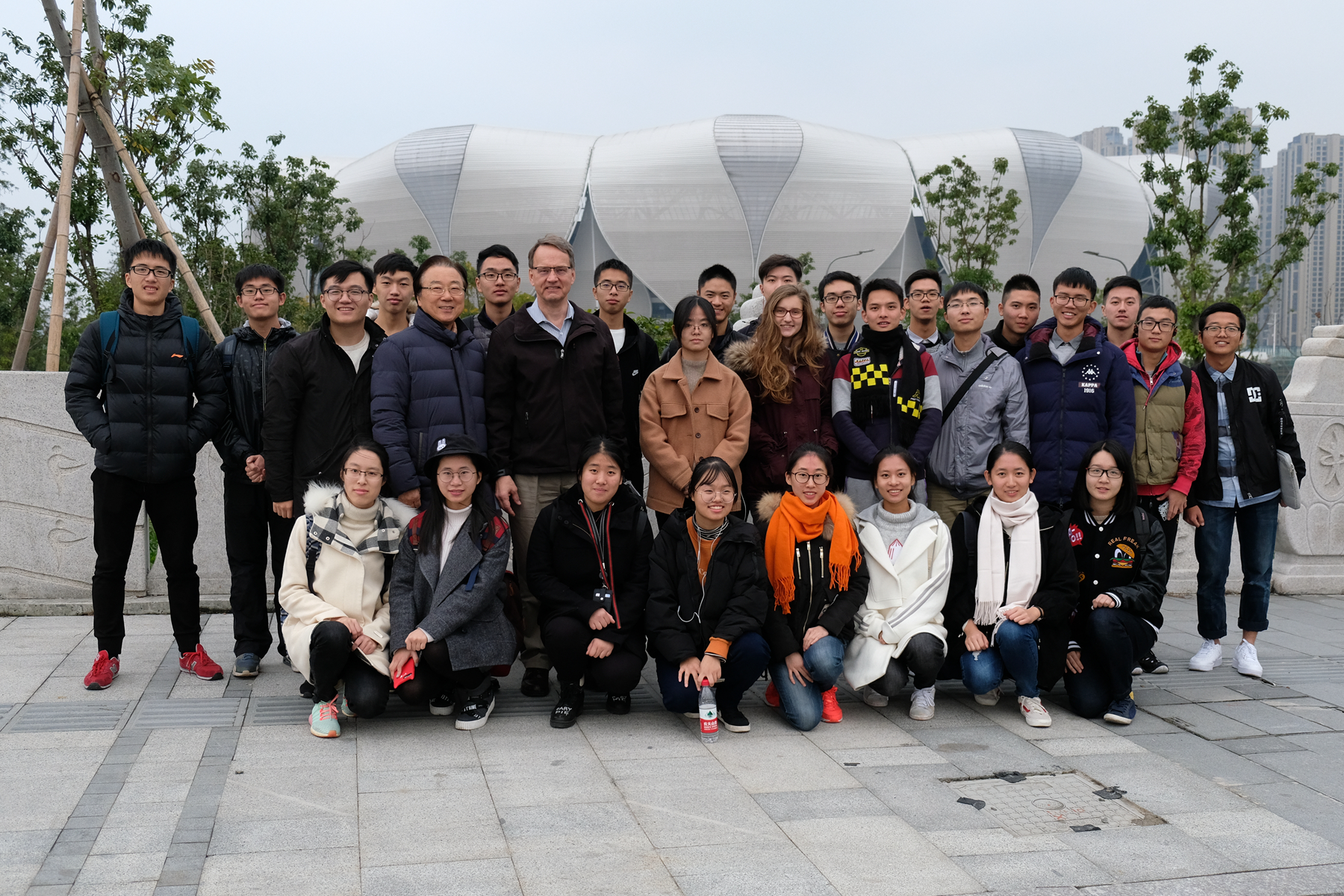 ▲ Field Trip with ZJUI students
Professor Spencer is a distinguished expert in the field of civil engineering, mainly focusing on intelligent structures. He pioneered research and development of smart dampers based on magnetorheological fluid technology, enabling the world's first engineering application. He made breakthroughs in open-source hardware/software architectures for wireless sensor technology for structural heath monitoring and achieved the world's largest implementation of smart sensors. He led the National Science Foundation's Network for Earthquake Engineering Simulation (NEES) system integration project and built the most advanced real-time hybrid simulation load and boundary condition system. He has also developed computationally-efficient solutions for topology optimization of stochastically excited structures. He has published more than 360 papers and been cited 40,855 times with h-index of 82. He has been selected as "Global Highly Cited Scholar in Civil Engineering" by Shanghai Ranking Consultancy and Elsevier. Professor Spencer has received numerous awards, including the ASCE Outstanding Instructor Award, the ASCE Norman Medal, the ASCE Housner Structural Control and Monitoring Medal, the ASCE Newmark Medal, the Zhu Kezhen International Lectureship Award, the ANCRiSST Outstanding Senior Investigator Award, the Structural Health Monitoring Person of the Year Award, the J.M. Ko Medal of Advances in Structural Engineering, IASCM Takuji Kobori Prize, and the Raymond & Sidney Epstein Structural Engineering Faculty Award. Professor Spencer is a Fellow of ASCE, a Foreign Member of the Polish Academy of Sciences, the North American Editor in Chief of Smart Structures and Systems, the Executive Managing Editor of the journal of Earthquake Engineering and Engineering Vibration, and the past president of the Asia-Pacific Network of Centers for Research in Smart Structures Technology. Finally, he is the Chair of the US-China Earthquake Engineering Foundation and has hosted more than 120 Chinese students and scholars to work in his laboratory, which are now making important contributions to the improvement and internationalization of civil engineering in China.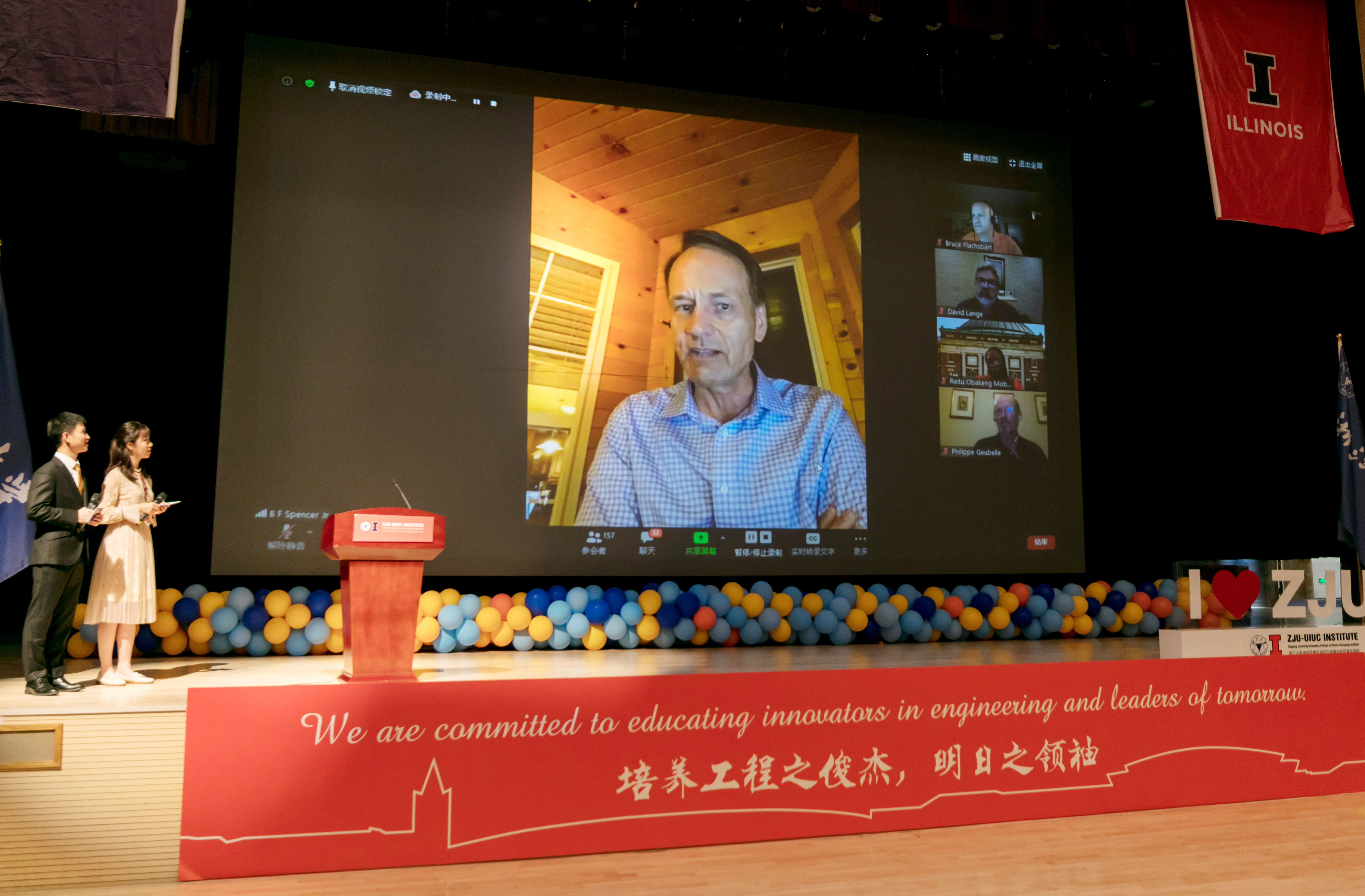 ▲ Participated in the Welcome Ceremony for freshmen of ZJUI
Reference: https://cee.illinois.edu/directory/profile/bfs